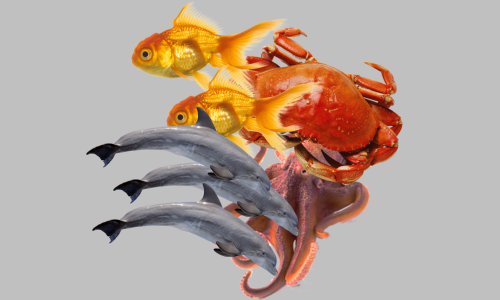 Fish and seafood are tasty foods, with great nutritional value and do not require a long preparation time. Dietary, easy to digest and nutritious due to its high content of protein, Omega 3 fatty acids and vitamins that the human body does not produce naturally, seafood is present in the diet of people who adopt a healthy lifestyle and are consumed with pleasure. during fasting periods. Fish is also a healthy substitute for red meat, helping to prevent vascular disease, diabetes or cancer. Thus, a diet that includes fish or seafood can bring you many long-term health benefits.
Fish and seafood are important foods for the body's health, which is why they should not be missing from the weekly menu. Fish is a very good source of quality protein, with a high nutritional value and a balanced fat profile. It is also essential to pay close attention to the source of the fish purchased, to be caught, not to be cultured and to be fished in unpolluted waters.
Seafood, such as shrimp, octopus, shellfish are considered delicacies and are good even in weight loss diets, with very good results. Their preparation must be done properly and it is also essential that the seafood be eaten in moderation. The explanation is that they are quite difficult to digest and can be stressful for the liver if consumed in excess. As a general rule, seafood can be included in the menu one to three times a week without problems, as long as they are not fried at high temperatures, in hot oil, and the indicated amount of protein per day is observed.
Many species of fish and seafood have low cholesterol, sodium and fat, are rich in vitamins such as B6, B12 and minerals (phosphorus, iron, zinc and potassium).
Seafood and fish, besides being delicious, are a very good source of minerals, vitamins and proteins.
Most of the fats found in these foods are unsaturated, Omega-3 and 6 fatty acids, this class of fats being the best for consumption.
Fish and seafood contain all 8 essential amino acids that our body needs and cannot produce.
Protein from fish and seafood is easier to process by the body than protein from other types of meat. The average protein value is 19%.
In general, fish is low in fat. However, fatty fish has those good fats for the body, polyunsaturated and monounsaturated. These Omega 3 and 6 fats are essential for brain development and for the proper functioning of the heart and eyes. These fats play a very important role in the development of the fetus and in the first years of life of the child, but also for the elderly.
Excellent source of B-complex vitamins, especially niacin, B12, B6. They also contain a considerable amount of thiamine.
Excellent source of minerals. Important source of calcium: in the soft bones of small fish such as sardines and in canned fish such as salmon. Other minerals: zinc (oysters and crustaceans), iron (crustaceans, loaf, shrimp), selenium (any seafood in general), copper, potassium, iodine. Fresh fish has a low sodium level.
Low cholesterol in most types of fish. In crabs and lobsters, the level of cholesterol is equivalent to that of red chicken.
Fish oils have a protective effect in the development of chronic degenerative diseases and can have therapeutic effects in cases of arthritis, atherosclerosis and vasospasm.
Fish has a special nutritional value, being a healthier source of protein than meat.
Therefore, ICA R&D offers you through the laboratories of organoleptic analysis, physico-chemical analysis, microbiology and molecular biology an extensive set of analyzes performed with state-of-the-art equipment to guarantee the best accuracy and sensitivity of the results obtained and to ensures that your product meets and respects the norms and limits of quality and food safety imposed by the legislation in force.
Monounsaturated fatty acids
Omega 3 fatty acids
Omega 6 fatty acids
Polyunsaturated fatty acids
Saturated fatty acids
Trans fatty acids
Spect fatty acids
Calcium
Insoluble dietary fiber
Soluble dietary fiber
Total dietary fiber
Phosphorus
Total carbohydrate / available carbohydrate
Lipids – fats, fatty substances
Magnesium
Potassium
Protein
Sodium
Energetic value
Total sugar, etc.
Vitamins: A, B1, B2, B3, B5, B6, B9, B12, C, E, etc.
Place fish and vegetables in the box
Placing the fish in the box
Appearance
Exterior appearance
Vegetable appearance
Look over
Sauce aspect
Meat consistency
Consistency after thawing
Consistent vegetables
Fish consistency
Foreign bodies
Color
Taste
Taste and smell
Taste and smell after thawing
Smells, etc.
Acesulfame K
Acetic acid
Benzoic acid
Citric acid
Lactic acid
Free L-glutamic acid
Sorbic acid
Total acidity
Water-soluble acids expressed in KOH
Water activity
Aspartame
Total volatile basic nitrogen
Caliber
Total ash
Sodium chloride (NaCl)
Collagen
Vegetable content relative to net meal
Fish content relative to net mass
Oil content relative to net mass
Foreign bodies
Defects produced from fish
Glucose
Histamine
Identification of starch
Identification of hydrogen sulfide
Fat acidity index
Sweeteners (acesulfame K / aspartame / saccharin)
Net weight
Drained net mass
Nitrites – expressed as sodium nitrite
Number of pieces in the package
Phosphorus pentoxide
pH
Polyphosphates – expressed as P2O5
Proportion of components (glaze, filling, etc.)
Collagen / protein ratio
Reactia Kreis
Identification reaction of ammonia with Nessler reagent
Antibiotic residues
Soluble dry matter
Total dry matter
Humidity
Saccharin – expressed in free imide, etc.
Aluminum
Arsenic
Cadmium
Chromium
Copper
Iron
Manganese
Mercury
Nickel
Lead
Selenium
Tin
Zinc, etc.
Pesticide package (eg 520 or 674)
Organochlorines: α-chlordane, α-HCH, aldrin, total DDT, decachlor-biphenyl, d-HCH, dieldrin, endosulfan, endrin, heptachlor, methoxychlor, tetrachloro-m-xylene, etc.
Organochlorine pesticides and pyrethroids
Organophosphorus pesticides, etc.
Allergens from (hazelnuts, milk, mustard, egg, soy)
Gluten
Lactose
Gliadin
Mollusk allergens
Fish allergen, etc.
Aflatoxin (B1, M1, total)
Deoxynivalenol
Fumonisins
Ochratoxin A
Zearalenone, etc.
Bacillus cereus
Mesophilic aerobic bacteria
Mesophilic anaerobic bacteria
Sulfite-reducing anaerobic bacteria
Thermophilic anaerobic bacteria
Coliform bacteria
Mesophilic lactic acid bacteria
Thermophilic acid bacteria without bombardment
Cronobacter spp.
Lees
Yeasts and molds
Enterobacteriaceae
Escherichia coli
Parasitological examination
Listeria monocytogenes
Molds
Total number of germs
Pseudomonas spp.
Salmonella
Coagulase-positive staphylococcus
Molecular typing Listeria monocytogenes – serogroup determination
Typing Salmonella spp., Etc.
35S promoter
Qualitative analysis of genetically modified hepta organisms
Qualitative analysis of triple genetically modified organisms
Species analysis
Analysis of fish caviar species
bar gene
Cry1A (b / c)
NOS terminator
SAMS-HRA
synPAT
transEPSPS, etc.
Carotenes
Cholesterol
Red artificial dyes
Dyes: Brilliant Black (E151) and BROWN HT (E155)
Sulphur dioxide
Dioxins and PCBs
Polycyclic aromatic hydrocarbons – PAH
Protective gas measurement
Melamine
Botulinum neurotoxin, etc.
For more information, you can always contact an ICA R&D representative, to provide you with all the necessary information and guide you in choosing the set of analyzes you need so that we can then make you an offer of services appropriate to the situation and your product.
Our most common tests & services
Analysis, tests, audit, monitoring.
Analysis, tests, audit, monitoring.
Analysis, tests, audit, monitoring.
Analysis, tests, audit, monitoring.
Analysis, tests, audit, monitoring.
Analysis, tests, audit, monitoring.
Analysis, tests, audit, monitoring.
Contact us for personalized research and develpoment services.
Specialized consultancy in terms of product quality and safety.
Specialized inspection and audit in the field of food production.
Training and development opportunities in a laboratory with modern equipment.
Scientific research and development center.