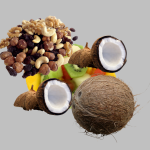 Dried fruits and nuts are produced and processed in many different countries. Recently, more and more exotic fruits – such as Goji berries – are making their way to the market.
As typical agricultural products, dried fruits and nuts contain a variety of contaminants and harmful substances. Production, processing, transport and storage can lead to contamination with pesticide residues, heavy metals, mycotoxins or pest infestation.
At the same time, quality assessment, sensory analysis and separation of product quality class require extensive experience and knowledge of goods. Government regulations – such as those for pesticides, mycotoxins and SO2 – require regular inspections. Import controls on contaminants and goods from certain countries are mandatory.
Our testing services on nuts or dried fruits:
Mycotoxins (aflatoxins, ochratoxins);
Label expertise;
Nutritional analysis;
Pesticides;
Metals and non-metals;
Radiation detection;
Measurement of radioactivity;
Detection of sulfuric acid and other preservatives;
Detection of evaluation compounds and quality criteria (characteristic compounds, fat indices, impurities, insect infestation, etc.);
Sensory evaluation with DIN approved evaluation panel, etc.
Relevant products:
Nuts (nuts, pips and processed products, for example, flour, almonds, hazelnuts, auci, pistachios, Brazil nuts, peanuts, hazelnuts, cashews, pecans, coconuts, etc.).
Dried fruits (apricots, plums, figs, raisins, currants, apples, pears, peaches, candied fruits, goji berries, exotic fruits, etc.).
Parameters for testing nuts and dried fruits:
ICA R&D offers multiple analyzes for your products, such as: acidity, water activity, caliber, ash, foreign bodies, fiber, identification of starch, impurities, iodine index, peroxide index, nitrates, nitrites, kreis reaction, humidity, bacillus cereus, coliform bacteria, yeasts and molds, enterobacteriaceae, escherichia coli, listeria monocytogenes, total number of germs, salmonella, coagulase-positive staphylococci, qualitative analysis of triple genetically modified organisms, 35S promoter, NOS detector, EPSM trans mosaic, BAR gene, PAT gene, total amino acids, anisidine, phosphine, pesticides, organoleptics (appearance, color, shape and size, taste, smell), fatty acids (saturated, monounsaturated and polyunsaturated, spectrum C4-C24), proteins, sugar total, vitamins, aluminum, arsenic, cadmium, chromium, copper, iron, manganese, mercury, nickel, lead, selenium, tin, zinc, etc.
For more information, you can always contact an ICA R&D representative, to provide you with all the necessary information and guide you in choosing the set of analyzes you need so that we can then make you an offer of services appropriate to the situation and your product.
Our most common tests & services
Analysis, tests, audit, monitoring.
Analysis, tests, audit, monitoring.
Analysis, tests, audit, monitoring.
Analysis, tests, audit, monitoring.
Analysis, tests, audit, monitoring.
Analysis, tests, audit, monitoring.
Analysis, tests, audit, monitoring.
Contact us for personalized research and develpoment services.
Specialized consultancy in terms of product quality and safety.
Specialized inspection and audit in the field of food production.
Training and development opportunities in a laboratory with modern equipment.
Scientific research and development center.