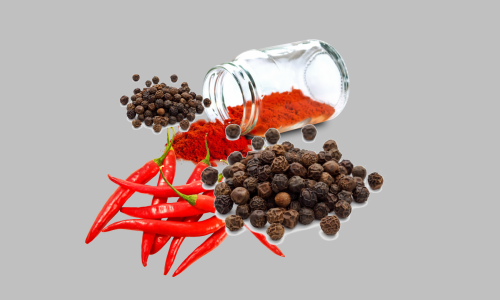 Spices or flavors substances of a mineral (salt) or vegetable nature (leaves, seeds, roots, whole or ground fruits) or a preparation thereof (vinegar, oil, essence, extract, paste, sauce, etc.), or obtained by synthesis (flavor, essence), which, added to certain foods or culinary preparations, give them a specific taste or aroma, contribute to their preservation, are used for medicinal purposes, as well as to stimulate appetite and digestion.
Spices played an important economic role in medieval Europe. These were extremely valuable, as they were needed not only for seasoning, but also as a preservative and base for medicines.
The word flavor refers both to substances that give food or products a pleasant taste or smell, and to the emanation of these pleasant-smelling substances (or their taste). Examples of flavors include: limonene, anisole, vanillin, diacetyl, menthol, etc.
Most artificial and natural flavors are made up of organic compounds called esters, which have a pleasant taste and smell, often similar to fruit. Other compounds may be flavorings, such as aldehydes (eg cinnamaldehyde, which gives cinnamon flavor) and hydrocarbons (eg limonene, orange flavor).
Chive
Basil
Thyme
Coriander
Cress
Ginger
Horseradish
Chervil
Lovage
Wild garlic
Marjoram
Dill
Melissa
Mint
Oregano
Parsley
Wormwood
Rosemary
Sage
Stevie
Tarragon
Garlic
Anise
Paprika
Basil
Cardamom
Black cardamom
Hemp, hemp seeds
Caraway
Cumin
Thyme
Coriander
Cloves
Turmeric
Bay
Pistachio
Ginger
Allspice
Juniper
Lovage
Poppy seeds
Marjoram
Dill
Mint
Almond
White mustard
Black mustard
Nutmeg
Oregano
Parsley
Wormwood
Pepper
Rosemary
Sage
Kitchen salt
Fenugreek
Cinnamon
Saffron
Sesame
Tarragon
Garlic
Vanilla
Therefore, ICA R&D offers you through the laboratories of organoleptic analysis, physico-chemical analysis, microbiology and molecular biology an extensive set of analyzes performed with state-of-the-art equipment to guarantee the best accuracy and sensitivity of the results obtained and to ensures that your product meets and respects the norms and limits of quality and food safety imposed by the legislation in force.
Monounsaturated fatty acids
Omega 3 fatty acids
Omega 6 fatty acids
Polyunsaturated fatty acids
Saturated fatty acids
Trans fatty acids
Spect fatty acids
Calcium Ca
Insoluble dietary fiber
Soluble dietary fiber
Total dietary fiber
Phosphorus
Total carbohydrates / carbohydrates available
Lipids – fats, fatty substances
Magnesium Mg
Potassium, K
Protein
Sodium, Na
Energetic value
Total sugar, etc.
Vitamins: A, B1, B2, B3, B5, B6, B9, B12, C, E, etc.
Appearance
Exterior appearance
Appearance in section
Color
Shape and dimensions
Taste
Taste and smell
Smell and taste
(SO4) 2
Acesulfame K
Acetic acid
Benzoic acid
Citric acid
Lactic acid
Free L-glutamic acid
Sorbic acid
Acidity
Free acidity
Acidity related to soluble dry matter
Total acidity
Volatile acidity
Volatile acidity relative to soluble dry matter (along with volatile acidity and SUS)
Volatile acidity, expressed as acetic acid
Mineral acids
Water activity
Foaming agent
Ethyl alcohol
Methylated spirit
Ammonia
Water and volatile substances
Ca2 +
CaCl2
Caliber
CaSO4
Ash
Ash insoluble in 10% HCl
Insoluble ash relative to soluble dry matter (together with insoluble ash and SUS)
Total ash
Total ash relative to SU (analysis is performed only together with total ash and humidity)
Sodium chloride
Synthetic dyes (executioner)
Foreign bodies
Foreign bodies (organic, infestation)
Density
Sulphur dioxide
Free sulfur dioxide
Total sulfur dioxide
ethanol
Extract
Crude fiber
Fibers (by treatment with amylase and neutral detergent)
phosphates
Glucose
Potassium glutamate
grit
Identification of starch
Metallic impurities
Mineral impurities
Insoluble mineral impurities
Peroxide index
Sweeteners (acesulfame K / aspartame / saccharin)
Infestation
Total iodine expressed as KIO3
Potassium iodide
KIO3
Net weight
Mg 2+
MgCl2
MgSO4
Na2SO4
Nitrates – expressed in nitrate ion
Nitrites – expressed as sodium nitrite
Number of pieces in the package
Phosphorus pentoxide
pH
Proportion of components
Reaction Kreis (Kreis reaction)
Sediment (dry residue)
Dry substance
Soluble dry matter
Insoluble substances
sulfites
Sodium thiosulfate
Humidity
Humidity and volatile substances
THIS value
Volume in packaging
Direct reducing sugar
Saccharin – expressed in free imide
Aluminum
Arsenic
Cadmium
Chromium
Copper
Iron
Manganese
Mercury
Nickel
Lead
Selenium
Tin
Zinc, etc.
Pesticide package (eg 520 or 674)
Organochlorines: α-chlordane, α-HCH, aldrin, total DDT, decachlor-biphenyl, d-HCH, dieldrin, endosulfan, endrin, heptachlor, methoxychlor, tetrachloro-m-xylene, etc.
Organochlorine pesticides and pyrethroids
Organophosphorus pesticides.
Allergens from (hazelnuts, milk, mustard, egg, soy)
Gluten
Lactose
Gliadin
Sesame DNA detection, etc.
Aflatoxin (B1, M1, total)
Deoxynivalenol
Fumonisins
Ochratoxin A
Zearalenone, etc.
Bacillus cereus
Mesophilic aerobic bacteria
Sulfite-reducing anaerobic bacteria
Thermophilic anaerobic bacteria
Coliform bacteria
Mesophilic lactic acid bacteria (30 degrees ° C)
Thermophilic acid bacteria without bombardment
Lees
Yeasts and molds
Enterobacteriaceae
Escherichia coli
Lactobacillus
Listeria monocytogenes
Molds
Total number of germs
Pseudomonas spp.
Salmonella
Coagulase-positive staphylococcus
Qualitative analysis of triple genetically modified organisms
35S promoter
NOS terminator
transEPSPS
Organic acids: formic, citric, tartaric, malic, succinic, lactic, acetic, propionic
Water activity
Mustard allergens
Allergens: Lactose
Bariu (Ba)
Capsaicin
Orange dyes II – Rodhamine B
Synthetic dyes – detection
Sudan dyes
Dyes: E 120 – carminic acid – quantitative
Coumarin
Radiation detection
Determination of the botanical origin of sugars
Determination of ionizing radiation
Determination of the 13C / 12C isotopic ratio by mass spectrometry
Dioxide of
Total sulfur dioxide
Anhydrous potassium ferrocyanide
Phosphate (expressed as P2O5)
Polycyclic aromatic hydrocarbons – PAH
Disodium inosinate E 631
Morphine
Pesticides (224 compounds)
Pesticides (520 compounds), quaternary ammonium compounds and dithiocarbamates
Organochlorine pesticides
Piperine
Polyols: mannitol, sorbitol, lactitol, maltitol, isomalt, xylitol
Sugar profile: Fructose, Glucose, Sucrose, Maltose, Lactose
Radioactivity (Cesium-134 + Cesium-137, Iodine-131)
Antibiotic residues for veterinary use -screening
Antimony (Sb)
Strontium (Sr)
Titan (Ti)
Validation of the consumption limit time
Vitamin B1
Vitamin B2 (Riboflavin)
For more information, you can always contact an ICA R&D representative, to provide you with all the necessary information and guide you in choosing the set of analyzes you need so that we can then make you an offer of services appropriate to the situation and your product.
Our most common tests & services
Analysis, tests, audit, monitoring.
Analysis, tests, audit, monitoring.
Analysis, tests, audit, monitoring.
Analysis, tests, audit, monitoring.
Analysis, tests, audit, monitoring.
Analysis, tests, audit, monitoring.
Analysis, tests, audit, monitoring.
Contact us for personalized research and develpoment services.
Specialized consultancy in terms of product quality and safety.
Specialized inspection and audit in the field of food production.
Training and development opportunities in a laboratory with modern equipment.
Scientific research and development center.