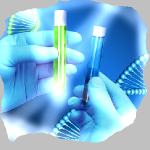 Residual DNA or host cell DNA may be inadvertently left on the products during manufacture. It is essential that manufacturers ensure that no contamination has occurred for the safety of their customers.
ICA R&D has more than 10 years of experience in residual host cell DNA testing, providing services from test development to routine testing in a GMP-friendly environment, if necessary. We ensure the safety of the products by offering testing services of a special technical quality and regulatory rigor.
As a global leader in GMO testing, ICA R&D is deeply aware of the depth of DNA extraction from a wide variety of matrices and has set standards in the development of PCR testing and routine testing in the field of GMOs.
Residual host cell DNA, which is purified from various host cell systems, can be present in all products in the food, feed, chemical and biopharmaceutical industries. Residual cell DNA testing of these products is relevant in the context of scientific risk assessment and approval. ICA R&D is your chosen partner for the detection and quantification of residual host cell DNA in your product for quality assurance or DNA removal studies in the production process.
Relevant products:
Food and feed
Vitamins
Amino Acids
Enzymes
Milk and dairy products
For more information, you can always contact an ICA R&D representative, to provide you with all the necessary information and guide you in choosing the set of analyzes you need so that we can then make you an offer of services appropriate to the situation and your product.