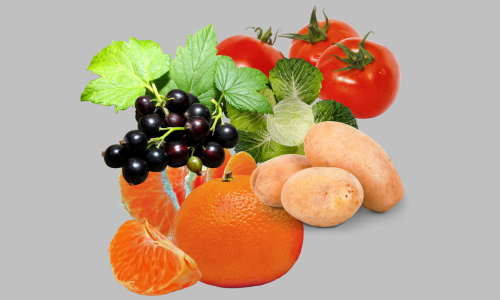 Fruits and vegetables have many benefits for human health, they are in themselves "wonder foods" because they all contain carbohydrates, fats, proteins and a number of vitamins, minerals, cellulose and a large amount of water, all of which have a role. very important in human nutrition and health.
Processes from production to harvesting and reaching the consumer are very important for fruits and vegetables. Fruits and vegetables that go through different stages must not lose their nutritional value, they must be kept in healthy and hygienic conditions for them, and biological diversity must be maintained and then presented to consumers in clean environments, in the form of degradation. of the product as low as possible.
Chemical treatments applied to fruits and vegetables before, during and after obtaining the finished product to increase yields and to protect them from other pests or harmful insects during growth, affect the health of people who consume this class of products and products derived from them, if they are used abusively, in quantities that exceed the limits imposed by law. Because of this, sensory, physical, chemical and microbiological tests and analyzes of fruits and vegetables are essential to ensure product safety and consumer health.
ICA R&D offers you a complete set of analyzes, in accordance with the legislation in force, for fruits or vegetables and products thereof:
Nutritional information: Fatty acids (omega3, omega 6, monounsaturated, polyunsaturated, saturated, trans), calcium, soluble, insoluble and total dietary fiber, phosphorus, total carbohydrates / available carbohydrates, lipids, magnesium, potassium, protein, sodium, energy value , total sugar, etc.
Organoleptics: appearance, caliber, shape and dimensions, color, consistency, taste and smell, infestation, etc.
General physico-chemical: pH, sorbic acid, acidity (free, total, volatile), water activity, starch, easily hydrolyzable nitrogen, ash insoluble in HCl, sodium chloride, alcohol concentration, total vegetable / fruit content relative to net mass , sulfur dioxide, fructose, glucose, mineral impurities, sweeteners, net mass, nitrites and nitrates, polyphosphates, kreis reaction, antibiotic residues, sugar, volume in packaging, etc.
Microbiological: bacillus cereus, mesophilic aerobic bacteria, mesophilic anaerobic bacteria, sulfito-reducing anaerobic bacteria, thermophilic anaerobic bacteria, thermophilic anaerobic bacteria, coliform bacteria, mesophilic lactic acid bacteria, thermophilic bacteria without bulging, yeasts and molds, yeasts, molds, leuconostoc mesenteroides, listeria monocytogenes, total number of germs, salmonella, etc.
Metals and non-metals: aluminum, arsenic, mercury, cadmium, chromium, copper, iron, manganese, nickel, lead, selenium, tin, zinc.
Mycotoxins and allergens: aflatoxins B1 and total, deoxynivalenol, ochratoxin A, zearalenone, patulin, gluten, lactose, soy, peanuts, gliadin, milk, egg, sesame, celery, etc.
Pesticides: Organochlorine pesticides (aldrin, total DDT, decachlor-biphenyl, endosulfan, endosulfan sulfate, endrin aldehyde and ketone, heptachlor, heptachlororepoxide, methoxychlor, tetrachloro-m-xylene, α-chlordane and HCH, β-chlordane and chlordane), package pesticides (252 and 592 compounds), tetracycline residues and their metabolites, etc.
For more information, you can always contact an ICA R&D representative, to provide you with all the necessary information and guide you in choosing the set of analyzes you need so that we can then make you an offer of services appropriate to the situation and your product.
Our most common tests & services
Analysis, tests, audit, monitoring.
Analysis, tests, audit, monitoring.
Analysis, tests, audit, monitoring.
Analysis, tests, audit, monitoring.
Analysis, tests, audit, monitoring.
Analysis, tests, audit, monitoring.
Analysis, tests, audit, monitoring.
Contact us for personalized research and develpoment services.
Specialized consultancy in terms of product quality and safety.
Specialized inspection and audit in the field of food production.
Training and development opportunities in a laboratory with modern equipment.
Scientific research and development center.