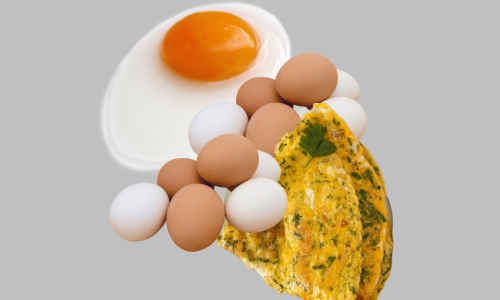 Egg is a product of animal origin with a high nutritional value, through the content of first degree proteins, ensuring a complete and perfectly balanced nutrition, through the high content of proteins, low amounts of saturated fats, minerals, vitamins and other nutrients. For example, egg contains: protein (~ 6.3g), fat (~ 4.55g), calcium (~ 24.2mg), magnesium (~ 4.45mg), iron, phosphorus, potassium, zinc, vitamins (B1, B2, B3, B5, B6, B9, B12, A, E, D, K), etc.
Egg is a very valuable food, used in human nutrition, as a food for both dietary purposes and in normal nutrition, as well as in the food industry for obtaining egg powder, pastries, pasta, mayonnaise, sauces, ice cream and other products. By eggs, without another name is meant that they come only from chickens, for the others must be mentioned the species from which they come (duck eggs, goose eggs, quail eggs, turkey eggs, etc.).
Counterfeiting of products is the operation by which the use value of a product is modified, for fraudulent purposes. The objectives of the expertise in case of counterfeiting of the goods (the egg in our case) consist in detecting the falsified evidence through standardized and accredited methods of analysis as well as the way of falsification respecting the norms and legislation imposed by law.
ICA R&D can offer you a complete and detailed analysis of this food class in order to ensure that your product is a safe product for consumption and that it respects the norms and limits imposed by the legislation in force.
Organoleptics: egg white, appearance, skin, foreign bodies, color, skin color, egg size, embryo, yolk, smell and taste.
Nutritional information: fatty acids (omega-3, 6 and 9, monounsaturated, polyunsaturated, saturated, trans), calcium, phosphorus, total carbohydrates / available carbohydrates, lipids, magnesium, protein, sodium, energy value, total sugar, etc.
Vitamins: B1, B2, B3, B6, B9, B12, C, E, A, D3, etc.
General physico-chemical: pH, starch, citric acid, lactic acid, sorbic acid, water activity, total ash, weight class, sodium chloride, cholesterol, air chamber size, hydrogen sulfide identification, vitelline index, net mass, percentage quality defects, shell / content ratio, Kreis reaction, humidity, determination of egg content, ash, dry matter, etc.
Metals and non-metals: arsenic, cadmium, copper, iron, mercury, lead, selenium, zinc, etc.
Pesticides: pesticides (224 and 520 compounds), pesticides (organochlorine, organophosphorus and pyrethroids -125 compounds), antibiotic residues for veterinary use, tetracycline residues and their metabolites, etc.
Mycotoxins: total aflatoxins, deoxynivalenol, ochratoxin A, zearalenone, etc.
Allergens: allergens from soy, gliadin, etc.
Microbiological: coliform bacteria, yeasts and molds, enterobacteriaceae, escherichia coli, listeria monocytogenes, total number of germs, salmonella, coagulase-positive staphylococcus, surface health test (Salmonella), etc.
For more information, you can always contact an ICA R&D representative, to provide you with all the necessary information and guide you in choosing the set of analyzes you need so that we can then make you an offer of services appropriate to the situation and your product.
Our most common tests & services
Analysis, tests, audit, monitoring.
Analysis, tests, audit, monitoring.
Analysis, tests, audit, monitoring.
Analysis, tests, audit, monitoring.
Analysis, tests, audit, monitoring.
Analysis, tests, audit, monitoring.
Analysis, tests, audit, monitoring.
Contact us for personalized research and develpoment services.
Specialized consultancy in terms of product quality and safety.
Specialized inspection and audit in the field of food production.
Training and development opportunities in a laboratory with modern equipment.
Scientific research and development center.