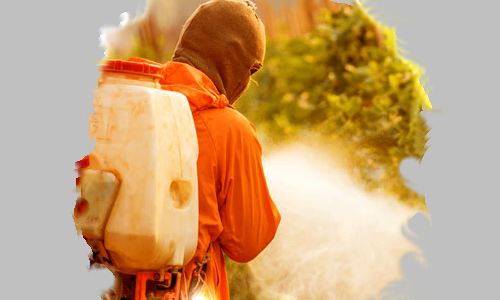 Pesticides are substances or mixtures of substances that contain biologically active ingredients against pests. Biologically active ingredients are generally toxic substances with the potential to degrade the environment. Many pesticides are also toxic to humans. For these reasons, the production, packaging, storage, transport and use of pesticides are regulated by law.
Pesticides are classified, depending on the target organism controlled, into: bactericides, fungicides, herbicides, insecticides, acaricides, nematocides, molluscs, raticides and mixed action.
The most toxic pesticides: Aldrin, Ethylene oxide, Methyl – paration, Aldicarb, Endrin, Crocidolite, Clordecon, 1,2 – Dibromethane, Hexachlorobenzene, Chlordane, Dinoseb, Mercury compounds, Clordimeform, Captafol, Methyl bromide, DBCP, Binapacryl, Paration, DDT, HCH, Pentachlorophenol, Chlorobenzylate, Heptachlor, Polychlorinated Triphenyl, 2,4,5 – T, Lindane, Polybrominated Biphenyl, Dieldrin, Mirex, Polychlorinated Biphenyl, Ethylene Dichlorin, Paraquat, 2,3 – Dibromopropyl Phosphate, and Fluoracetam , etc.
Our offer for pesticide testing:
Performing pesticide residue analyzes;
Recommendation of analysis purposes;
Express analytical performance (testing 12, 24, 48 hours);
Performance of LPG studies (in the context of pesticide registration);
Helpdesk regulatory framework (regulations and maximum residue limits);
Product safety consulting;
Pesticide analysis for GMP studies (Ph. Eur. / USP);
Design and technical implementation of testing purposes in relation to customer or product specifications;
Development and validation of the method in accordance with GMP / GLP guidelines for customers and in accordance with ICH guidelines;
IFS audit;
Sampling by pesticide testing staff is one of the top laboratories in this field;
Their experience in many matrices – including difficult ones such as tea, spices and tobacco – allows ICA R&D to apply the right analytical strategy and provide tailored advice to help customers protect their products and brands. Thus, ICA R&D can assist you in determining the pesticide contamination of the following product classes:
Fresh fruits and vegetables
Dried fruits (including concentrates, powders, etc.)
Fruit juices and concentrates
Tea, coffee, cocoa
Baby food
Cereals
Rice
Beverages, wine and spirits
Fish and fish products
Meat and meat products
Herbs and spices
Flavors
Dairy products
Fats and oils
Drugs
Tobacco
Soil sample, drinking water, groundwater or surface water
Greenhouse, plasma, blood (in the context of LPG studies)
Candy
Honey, etc.
For more information, you can always contact an ICA R&D representative, to provide you with all the necessary information and guide you in choosing the set of analyzes you need so that we can then make you an offer of services appropriate to the situation and your product.
Our most common tests & services
Analysis, tests, audit, monitoring.
Analysis, tests, audit, monitoring.
Analysis, tests, audit, monitoring.
Analysis, tests, audit, monitoring.
Analysis, tests, audit, monitoring.
Analysis, tests, audit, monitoring.
Analysis, tests, audit, monitoring.
Contact us for personalized research and develpoment services.
Specialized consultancy in terms of product quality and safety.
Specialized inspection and audit in the field of food production.
Training and development opportunities in a laboratory with modern equipment.
Scientific research and development center.